Pembroke's 6th Grade Career Day Inspires Students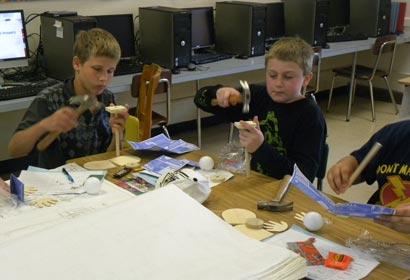 Hands-on construction projects give kids a taste of the trade.
Project Manager Brian Beachner and Intern Anthony Mastrodonato represented Campus CMG in the 6th Grade Student Career Day at Pembroke Intermediate School. Campus was one of several industries represented.
Campus CMG provided students with an overview of the many professional opportunities that the construction industry has to offer. At the event, students learned about a variety of construction roles and their required skills and abilities, education requirements and career paths.
Lowes Home Improvement donated workshop building kits and hammers to make the event a huge success. Students were required to follow the blue prints to build a variety of projects including a tether ball stand, a mini-basketball hoop, a tool box, an herb garden and a school house. Upon completion, each student's project was inspected for quality and accuracy.
Campus CMG is currenlty providing construction management services to Pembroke CSD for a $24.8 million renovations project. For more information, see the Related Information links below.
---
 RELATED INFORMATION:
DOWNLOAD: Construction Workforce Career Path Info Sheet